RUSSIA
Home > Countries of Asia > Russia
Borders: North Korea | Japan | China | Mongolia | Kazakhstan | Georgia | Azerbaijan
Main facts about the geography of Russia
The section of Russia lying East of the Ural mountains is considered in Asia
The section of Russia lying West of the Ural mountains is considered in Europe
East of the Ural Mountains, the huge West Siberian Plain is the largest plain in the World
East of the West Siberian Plain, the Central Siberian Plateau takes up a large mass of space in the middle
Russia is, by far, the biggest country in the World – nearly twice as large as the United States
Contains a massive northern tundra coastline bounded by the Arctic Ocean
The Eastern half of Asian Russia has more mountains than the Western half, especially in Northeast Siberia
The Sayan and Stanvoy mountains lie in the Southeast, where Russia borders with Mongolia and China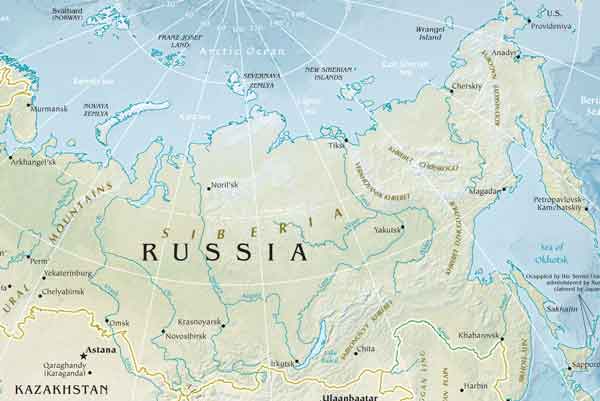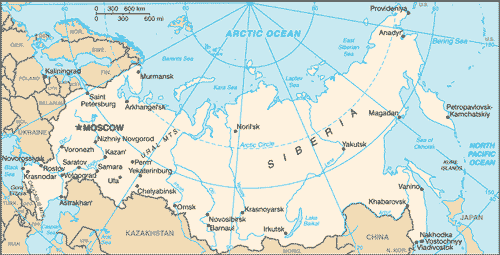 Can a country truly be large enough to belong in two continents? Well, yes, but only Russia. A behemoth of land area, much of the population of Russia lives on the European side, but none the less, the enormous chunk of Russia that lies in Asia contains very interesting geographic features.
No matter how big Russia is, humans still can't live in much of its Asian territory because the climate is essentially too cold to be inhabited. The mountains in the South prevent warm air from the Indian Ocean from lessening the biting cold. The mountains in the East block much of the warm air from the Pacific Ocean. However, there is no such protection from the cold air of the Arctic Ocean. Therefore, Russia is considers as the coldest country on Earth!
Despite the problems that the climate can make for both the population and the agriculture, Russia is still rich in natural resources and water.